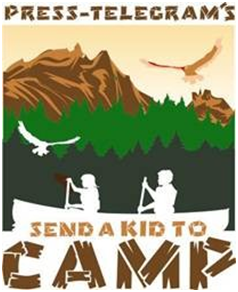 Press Telegram Send-a-Kid-to-Camp Fund
The Press Telegram Send-a-Kid-to-Camp campaign, launched in 1999, has resulted in hundreds of children reveling in the unique experience of attending a week-long summer camp. For many of these young people, the camping experience is life-changing. The mountain camps are run by the agencies we call the Big Five:  Boy Scouts, Girl Scouts, Boys and Girls Club, Camp Fire USA, and YMCA.
Most of the kids who benefit from camp scholarships come from city neighborhoods where drugs and crime proliferate, and where it is often too dangerous for them to go outside to play after school or on warm summer days. In many cases they are growing up in families where there is only one parent; sometimes even no parents.
Your tax-deductible financial contribution can help provide a child the opportunity to escape this environment for a week-long experience at a mountain camp where the air is fresh, the night sounds are crickets and birds rather than gunfire and sirens, and the opportunities to make new friends abound.
How You Can Help
Make a donation today. Your contribution receives a full tax-deduction and goes directly towards the Press-Telegram's Send-a-Kid-to-Camp Program.
Use the secure form below to make an online donation. We appreciate your support!
Contributions By Check
Check donations may be mailed to Long Beach Community Foundation, PO Box 32622, Long Beach, CA 90832. Please write Send-a-Kid-to-Camp in the memo section of your check.
Contributions By Credit Card
In the secure form below, please select a donation amount. If you do not see your designated amount listed, please select 'Other' and type in the amount of your choice.
100% of your donation is deductible for income tax purposes, but a credit card service charge of about 3% will be deducted from your donation. You may want to consider increasing the amount of your donation to cover this necessary cost.