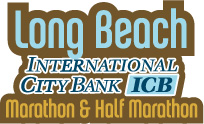 The LB Marathon Fund
The Long Beach Marathon Fund was established as a way for the Long Beach International City Bank Marathon & Half Marathon to give back to its community.
The fund goals include:
To award community groups, organizations and individuals for their support of health, fitness and/or marathon activities.
To demonstrate good corporate citizenship and give back to the community.
To create awareness of the Marathon and it's positive impact on the community.
To reward the community for their support of the marathon as a fun and inspirational event.
The type of awards considered are:
Funding to organizations for programming and/or participation (cheer station, atrwork, etc.).
Funding to local health and fitness youth programs in schools or other organizations (i.e. Boys & Girls Clubs).
Funding for arts councils for specific artwork at the event.
Funding for Cal State Long Beach for having their students come out and cheer at the race.
Funding for school cheer teams or course entertainment (high school cheerleaders)
Funding for each official participating charity (i.e. $100 each)
How You Can Help
Make a donation today. Your contribution receives a full tax-deduction and goes directly towards the Long Beach International City Bank Marathon Fund.
Use the secure form below to make an online donation. We appreciate your support!
Contributions By Check
Check donations may be mailed to Long Beach Community Foundation, 400 Oceangate, Suite 800, Long Beach, CA 90802. Please write Marathon in the memo section of your check.
Contributions By Credit Card
In the secure form below, please select a donation amount. If you do not see your designated amount listed, please select 'Other' and type in the amount of your choice.
100% of your donation is deductible for income tax purposes, but a credit card service charge of about 3% will be deducted from your donation. You may want to consider increasing the amount of your donation to cover this necessary cost.