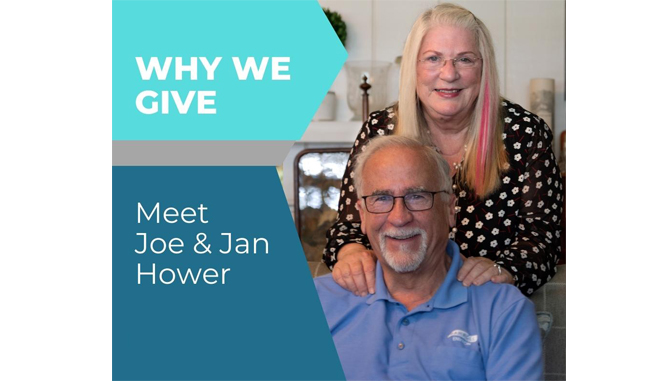 Joe and Jan Hower are generous with their time and money in supporting Long Beach and are current members of the Long Beach Community Foundation's (LBCF) legacy society. Their roots in Long Beach go back to the late 70s. Joe worked at the Procter & Gamble plant located in the Port of Long Beach as an energy conservation engineer and helped build and operate a wood-burning power plant and has since worked and consulted in the environmental space. Jan worked for McDonald Douglas Realty Company and then at Eastman Office Supplies (now Office Depot) as Controller and VP of Finance.
"Neither of us grew up in families that gave charitably, we grew up in homes that did not have solid financial resources," said Joe. "My family was the recipient of giving; we were on food stamps when I was a teenager." Jan grew up in the northeast where sometimes her family struggled to afford heat in their home.
Years after leaving Eastman Office Supplies, Jan left financial work and studied at Long Beach City College majoring in academic music studying voice, piano, and music theory. Becoming part of the Long Beach Camerata Singers was a perfect fit for her, combining both her financial experience and musical talents. The Long Beach Camerata Singers was founded in 1966 and is dedicated to excellence in choral music. Its mission is to "enrich the lives of our communities and performers through a broad spectrum of repertoire, innovative programming, and arts education." She joined the Camerata Board of Directors in 2007 and in 2010 became Treasurer, later she sang in the choir, and in 2013 she was elected President. Joe volunteers his time with the Camerata Singers as well. Recently he purchased a van at auction and just finished the necessary repairs on it so it can be used to transport equipment for their Front Porch Concert Series. Jan refers to him as one of their unsung heroes.
Both Joe and Jan grew up knowing first-hand what assistance looked like. Now they are giving back to the city they love. "Long Beach has so many unique neighborhoods," says Jan. "Neighborhoods have their own personalities and create a sense of community. People reach out to each other, talk to each other, and many times take care of each other." Many people say Long Beach acts as a small city, even though it's the seventh-largest city in California with a population of just under 500,000.
This small-town feel is what makes it easy to serve in Long Beach. Like many nonprofits, Jan knew that the Camerata Singers had needs and they could do much more with additional funding. In 2016, The Howers gave their first large donation of a $25,000 matching gift as part of the Camerata's 50th-anniversary campaign. Their gift was matched and the Camerata Singers had funding to grow.
The Howers are charitable today and have also committed to giving as part of their legacy. They shared that setting up a legacy fund with LBCF was a no-brainer. "We don't know what the future may bring, but we know that nonprofits will depend on donor support," says Jan. "We are happy that we are able to specifically outline our charitable wishes in our estate plan and that LBCF will facilitate them." For the Howers and other legacy members, LBCF's role is to provide institutional oversight that ensures legacy funds are granted to charities that follow the donor's wishes, are used appropriately, and are invested responsibly.
Joe and Jan have been married since 1980 and originally met at Santa Ana College in Professor Honaker's economics class. "She asked me out on a date," Joe says with a grin. Jan disagrees and insists that it was a study session. Maybe they can't agree on how they got together but together they are making Long Beach a better place, today and in the future.
---
To learn more about LBCF's legacy society, reach out at (562) 435-9033 x 2371 or at info@longbeachcf.org.