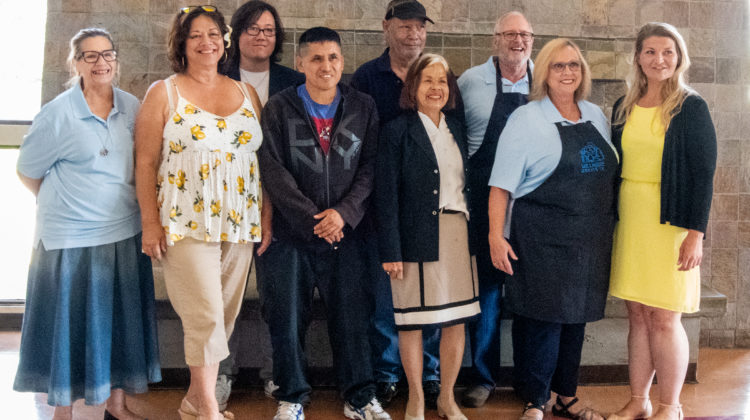 Through a Long Beach Community Foundation (LBCF) grant, precariously housed individuals and those suffering from homelessness in Long Beach now have access to new opportunities. A $30,000 grant was awarded to the Willmore City Heritage Association in 2018 from LBCF's Knight Foundation Fund to launch the Willmore Baking Company.
Willmore Baking Company is an 8-week tuition-free program for no or low-income individuals interested in learning professional baking skills. This grant provided funds to convert a previously underutilized commercial kitchen at Cesar Chavez Park into a professional teaching space through the purchase of professional baking equipment.
Prior to founding the Willmore Baking Company, Sheila Gibbons, a retired nurse and her husband Alan Giomi were volunteers serving food at the Beacon for Him Ministry. Though Alan swore he would never bake again after spending 30 years as a baker and making an uncountable number of pumpkin pies, he started bringing desserts to Beacon for Him. When the kitchen at Beacon for Him was temporarily closed, Sheila and Alan wanted to fill the need and saw an opportunity.
They discovered the community kitchen at Cesar Chavez Park. The kitchen itself needed significant improvements but Sheila and Alan knew this was an opportunity to further activate this public space and set out to start a baking school. Sheila was associated with the Willmore City Heritage Association and during a Board meeting President, Kathleen Irvine suggested looking for grants to refurbish the kitchen. Kathleen applied for a Knight Foundation grant through LBCF and the Willmore Baking Company was able to purchase a new stove, new professional mixers, baking racks, and other professional baking equipment and supplies. The Knight Foundation Fund invests in projects that attract and keep talented people, expand opportunity for all, and accelerate civic engagement.
"This is more than baking," says Sheila. During the June 2019 graduation, she told the story of a Long Beach graduate who was a Vietnam veteran living in a tent near 14th Street with his son, a Poly High student. It took some convincing to get him interested in baking, but ultimately he signed a commitment to participate in the program. By the end of his second class, Sheila had connected him with the Long Beach Multi-Service Center, which helped him move from living in a tent to living in an apartment. This was the beginning of a new sense of worth and new opportunities. He is now working full-time and his son is going to college in the Fall.
Along the way, Sheila and Alan have also discovered some unpredictable challenges. They quickly learned that many students applying for and in the program had trouble reading. Fortunately, this was not a concern for Alan who suffers from dyslexia himself, and confidently tells any student that he can teach them how to read a recipe.
Students who commit to the program learn to bake a wide variety of items such as focaccia bread, loaf, and braided breads, cupcakes, pies, and muffins. Additionally, students are taught kitchen safety, correct hand washing, and cleanliness techniques, and take the California Food Handler Certificate test, which is required to work in any commercial kitchen. Sheila and Alan also support students with resume writing, interviewing, social, and job retaining skills.
The endeavor is more than a family effort — even Sheila's daughter created the Bakery logo. "It's the magic that happens when residents, neighborhood associations, the city, local businesses, and grantmakers work together," Sheila adds. "It's more than baking, it's about creating a sense of worth and it's just a lot of fun."
To learn more about the program or how to refer an individual to the program, email willmorebaking@gmail.com. Classes begin each Spring and Fall.