LBCF to Give Mental Health America Los Angeles Wellness Center a Makeover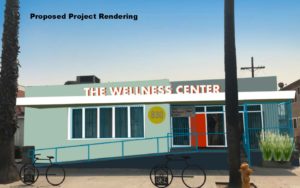 The Long Beach Community Foundation (LBCF), in partnership with Mental Health America Los Angeles, plans to renovate the Wellness Center at 830 Atlantic Ave in Long Beach for the 2018 National Philanthropy Day Project. The event will take place on October 20, 2018.
The Wellness Center responds to the needs of individuals with mental illness who have transitioned to independent community-based support from homelessness. This location serves more than 300 adults with mental illness below the poverty line annually. At the center there are opportunities for individuals to learn skills for self-reliance, develop natural supports, and access resources to help them grow in their wellbeing.
The volunteer efforts on October 20, 2018 will focus on external renovations to create a more inviting and welcoming façade for the Wellness Center. This will be accomplished through fresh paint, natural plantings, and design elements overseen by Citron Design.
National Philanthropy Day is made possible through generous donors and volunteer such as yourself who take in interest in improving the community.
To donate to this year's project, please click here.
To volunteer at this year's event, please sign up here.
Our mission
The Long Beach Community Foundation initiates positive change for Long Beach through charitable giving, stewardship and strategic grant-making.
Our vision
We strive to be the preeminent steward of endowments serving the needs of Long Beach in perpetuity.
Our focus
Encourage charitable giving
Help individuals and families manage their philanthropic giving
Establish endowment funds to benefit local nonprofits
Make strategic grants to Long Beach nonprofits