June Webinar – LBCF 25th Anniversary Celebration!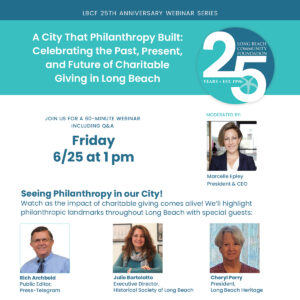 Join us in the second of a three-part series on Thursday, 6/25 at 1 pm – A City That Philanthropy Built: Celebrating the Past, Present, and Future of Charitable Giving in Long Beach.
Marcelle Epley and longtime Long Beach historians, Rich Archbold, Julie Bartolotto, and Cheryl Perry, will explore how our Long Beach landscape has been positively impacted by charitable giving. Watch as the impact of charitable giving comes alive as we highlight philanthropic landmarks throughout Long Beach.
---
LBCF 2019 Annual Report
Available for download here
Our Mission
The Long Beach Community Foundation initiates positive change for Long Beach through charitable giving, stewardship, and strategic grantmaking.
Our Vision
We strive to be the preeminent steward of endowments serving the needs of Long Beach in perpetuity.
Our Focus
Encourage charitable giving
Help individuals and families manage their philanthropic giving
Establish endowment funds to benefit local nonprofits
Make strategic grants to Long Beach nonprofits