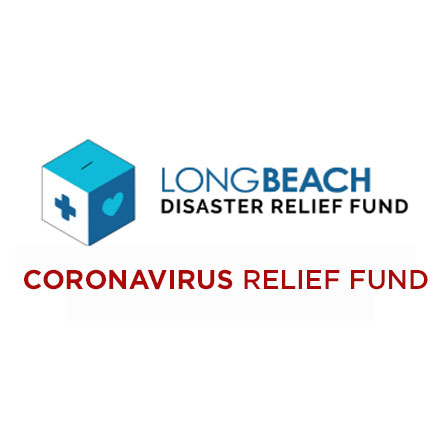 Long Beach Disaster Relief Fund
Coronavirus Relief Fund (Official fund in partnership with the City of Long Beach)
Long Beach is experiencing an unprecedented challenge as we face the Covid-19 health crisis. This fund will support the most vulnerable in our community.
The Long Beach Coronavirus Relief Fund will support community-based organizations at the frontlines of the coronavirus response in the Long Beach area. Grants will be made to support approved 501(C)3 nonprofit, educational, and governmental organizations working on these efforts.
Funds donated to this Long Beach Relief Fund through June 5, 2020 will be used exclusively for assistance to Long Beach residents impacted by Coronavirus.
Make a donation today. Your contribution receives a full tax-deduction and goes directly to the Long Beach Disaster Relief Fund.
WAYS TO GIVE:
1. Text to Donate
Text "SupportLB" to 501-55 and follow the prompts to donate.
2. Contributions By PayPal
Click the button below, or visit PayPal.me/SupportLB or use the PayPal app and type @SupportLB.
3. Contributions By Check
Check donations may be mailed to Long Beach Community Foundation, 400 Oceangate, Suite 800, Long Beach, CA 90802. Please write Long Beach Coronavirus Relief Fund in the memo section of your check.
4. Contributions By Credit Card
In the secure form below, please select a donation amount. If you do not see your designated amount listed, please select "Other" and type in the amount of your choice.
100% of your donation is deductible for income tax purposes, but a credit card service charge of about 3% will be deducted from your donation. You may want to consider increasing the amount of your donation to cover this necessary cost.