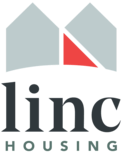 Linc Housing Corporation Mission Fund
Scroll To Donate Form
Linc Housing's mission is to build communities and strengthen neighborhoods for people underserved by the marketplace. Since 1984, Linc has created and preserved affordable housing for thousands of families and seniors throughout California. Linc works hard to address the homelessness crisis by building supportive housing and addressing the affordable housing needs of our state's diverse population. Through resident services, we provide life-enhancing programs that improve the quality of life for those who live in our communities. Linc's Welcome Home program provides basic housewares for residents who arrive at new apartments from homelessness with very few possessions.
In Long Beach, Linc serves transition-age youth at The Palace, including young people who have experienced homelessness. Spark at Midtown in Central Long Beach engages partners to include youth services, workforce development, and health clinics alongside supportive and affordable housing. Bloom at Magnolia, opening in 2021, will also provide additional supportive housing for individuals who have experienced homelessness.
How You Can Help
Make a donation today. Your contribution receives a full tax deduction and goes directly to Linc. Use the secure form below to make an online donation. We appreciate your support!
Contributions By Check
Check donations may be mailed to Long Beach Community Foundation, 400 Oceangate, Suite 800, Long Beach, CA 90802. Please make check payable to "Long Beach Community Foundation" and write "Linc Housing Corporation Mission Fund" in the memo section of your check.
Contributions By Credit Card
In the secure form below, please select a donation amount. If you do not see your designated amount listed, please select "Other" and type in the amount of your choice.
100% of your donation is deductible for income tax purposes, but a credit card service charge of about 3% will be deducted from your donation. You may want to consider increasing the amount of your donation to cover this necessary cost.
Terms
I understand that, as required by the Internal Revenue Service, Long Beach Community Foundation has exclusive legal control over this contribution. I also understand my contact information may be provided to the fund advisors/owners for acknowledgment purposes.