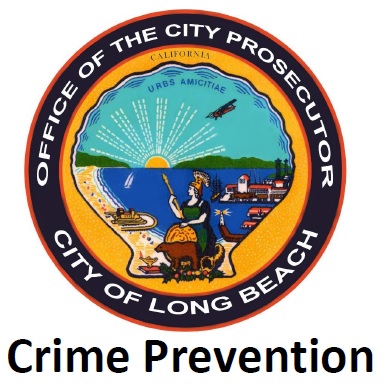 Long Beach Crime Prevention Fund
Scroll To Donate Form
The Long Beach Crime Prevention Fund is dedicated to supporting a broad range of efforts by the Long Beach City Prosecutor's Office. These activities include but are not limited to, efforts to:
eliminate crime
engage in educational, anti-truancy, intervention or gang prevention efforts benefiting youth, especially youth considered at-risk
engage in crime prevention efforts and strategies
improve the effectiveness of law enforcement and criminal prosecution, including training and education
educate the public about crime or violence prevention
discourage and disrupt gang recruitment and suppress gang activity
assist in reentry and rehabilitation of justice-involved persons, such as tattoo removal
reduce visible blight, especially in areas known to be high crime areas
encourage and incentivize the participation of others to assist the City Prosecutor's Office in the aforementioned activities
How You Can Help
Make a donation today. Your contribution receives a full tax deduction and goes directly towards the Long Beach Crime Prevention Fund.
Use the secure form below to make an online donation. We appreciate your support!
Contributions By Check
Check donations may be mailed to Long Beach Community Foundation, 400 Oceangate, Suite 800, Long Beach, CA 90802. Please make check payable to "Long Beach Community Foundation" and write "Long Beach Crime Prevention Fund" in the memo section of your check.
Contributions By Credit Card
In the secure form below, please select a donation amount. If you do not see your designated amount listed, please select 'Other' and type in the amount of your choice.
100% of your donation is deductible for income tax purposes, but a credit card service charge of about 3% will be deducted from your donation. You may want to consider increasing the amount of your donation to cover this necessary cost.
Terms
I understand that, as required by the Internal Revenue Service, Long Beach Community Foundation has exclusive legal control over this contribution. I also understand my contact information may be provided to the fund advisors/owners for acknowledgment purposes.