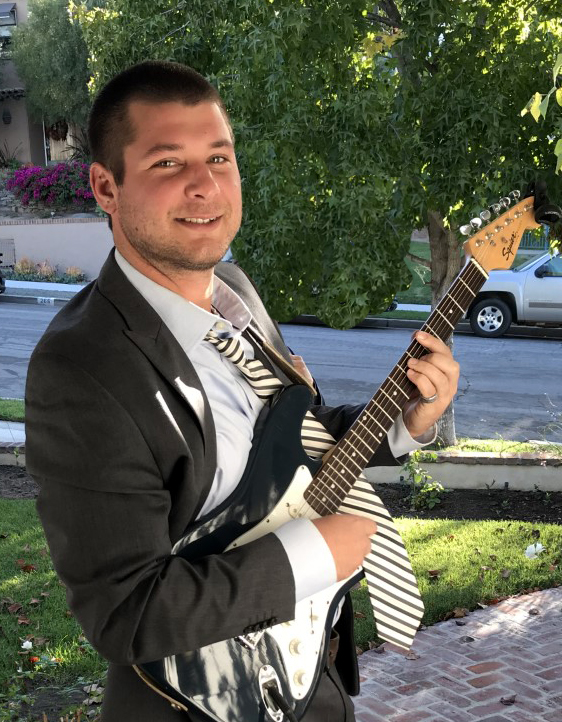 Riley Parker Musical Arts Endowment Fund
Scroll To Donate Form
Riley Parker performing his song "Angel"
Thank you for contributing to the Riley Parker Musical Arts Endowment Fund. This fund was established in memory of Riley Parker.
Riley Parker's presence was palpable and his expression of love was tangible, especially when directed to his family; it just poured out to them. Riley was passionate, authentic, personable, charismatic, funny, creative, and cherished his faith in God. His cheerful grin, soft eyes, and soulful voice offered music to many ears during his life. He was a true Long Beach guy who treasured his mom, dad, brother Brit, and sisters Delani and Presley.  He was their one-man cavalry. Riley enjoyed the simple pleasures of life including a dip in Alamitos Bay, writing a catchy tune, or just hanging out with his family over a home-cooked meal. He proudly worked at Joe Jost's and performed around Long Beach and Seal Beach with his band, Riley P and the Regs. Riley remains the heartbeat of his family and fills their souls with his amazing legacy. They miss his extraordinary, remarkable energy every day but have chosen to be inspired by his memory through the pursuit of meaningful endeavors to honor and further his love of music. In doing so they created this fund, the Riley Parker Musical Arts Endowment which will provide a yearly gift to the Jazz Angels who will directly benefit from donations made here.
The Jazz Angels are a local nonprofit organization that creates opportunities for young people to hear and learn about jazz, encourages them to play an instrument, and provides opportunities for them to perform.
Watch the LB Jazz Angels perform Taste of Honey.
How You Can Help
Make a donation today. Your contribution receives a full tax deduction and goes directly to Riley Parker Musical Arts Endowment Fund.
Use the secure form below to make an online donation. We appreciate your support!
Contributions By Check
Check donations may be mailed to Long Beach Community Foundation, 400 Oceangate, Suite 800, Long Beach, CA 90802. Please make check payable to "Long Beach Community Foundation" and write "Riley Parker Musical Arts" in the memo section of your check.
Contributions By Credit Card
In the secure form below, please select a donation amount. If you do not see your designated amount listed, please select "Other" and type in the amount of your choice.
100% of your donation is deductible for income tax purposes, but a credit card service charge of about 3% will be deducted from your donation. You may want to consider increasing the amount of your donation to cover this necessary cost.
Terms
I understand that, as required by the Internal Revenue Service, Long Beach Community Foundation has exclusive legal control over this contribution. I also understand my contact information may be provided to the fund advisors/owners for acknowledgment purposes.