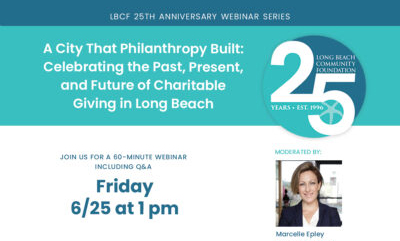 Join us on June 25, 2021 at 1 pm for LBCF's 25th-anniversary celebration, A City That Philanthropy Built – The Past, Present, and Future of Charitable Giving.

In part two of this three-part series, we'll explore how our Long Beach landscape has been positively impacted by charitable giving.

Marcelle Epley will be joined by Rich Archbold – Public Editor of the Long Beach Press-Telegram, Julie Bartolotto – Executive Director of Historical Society of Long Beach, and Cheryl Perry – Executive Director of Long Beach Heritage.

Watch as the impact of charitable giving comes alive as we highlight philanthropic landmarks throughout Long Beach.

Watch the webinar here.