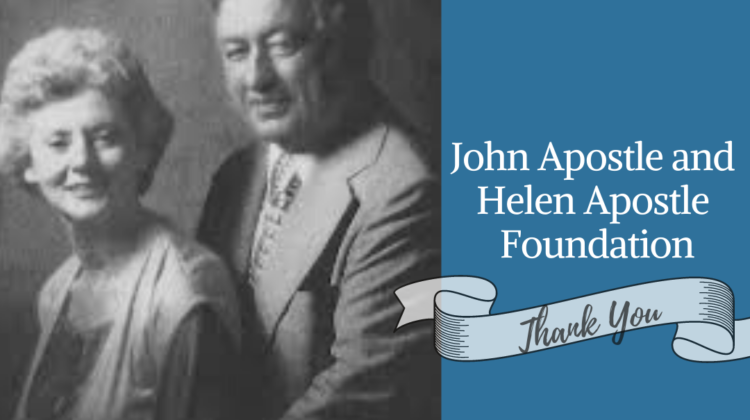 The John Apostle and Helen Apostle Foundation has been a partner of the Long Beach Community Foundation (LBCF) for more than 15 years through the generous contributions of Helen Apostle during her lifetime as well as posthumously through the Apostle Foundation's current Board. The Apostle Foundation's mission is to improve the lives of residents of Long Beach, CA, through support of nonprofit organizations and programs in social services, education, and arts and sciences, particularly those that assist children and seniors in need.
The late John and Helen Apostle were Long Beach-based entrepreneurs who were actively involved in local civic and philanthropic endeavors, particularly in the Greek community. Around 2006, at the inception of the Long Beach Community Foundation as an independent 501(c)(3) organization, founding CEO Jim Worsham was reaching out to local philanthropists, community-based organizations, and private foundations with the means to provide initial seed funding for the organization. Helen Apostle, known for her generosity, agreed to become a supporting Founder with a substantial contribution toward the efforts. 
This was just the beginning, as Helen and the Apostle Foundation were consistent contributors to the Press-Telegram/ LBCF Send-a-Kid-to-Camp campaign throughout the years. In 2007, the Apostle Foundation stepped up once again to renew its commitment to the ongoing sustainability support of LBCF. In 2014, when original Founders were approached to renew their commitment, another substantial donation was made to LBCF's Vision campaign.
John and Helen's legacy continues to live on at LBCF and other Long Beach nonprofits through the ongoing philanthropy of their Foundation, who has recently made a significant contribution to LBCF's coronavirus relief efforts and through a two-year commitment to the LBCF Community Impact Fund. The Community Impact Fund exists to annually address the most pressing challenges in the Long Beach community. Each year, the Foundation's Board of Directors determines suitable areas of focus for grantmaking from the Community Impact Fund. The Board searches for nonprofit organizations that can provide services to meet critical, new, and emerging community needs.
LBCF is eternally grateful to the generosity of people like John and Helen Apostle who enable LBCF to continue to make positive changes in Long Beach and make the city a better place to live and work.