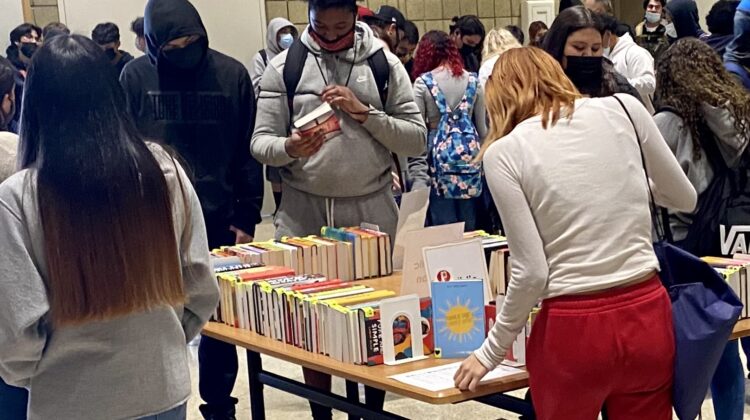 In 2021, The Book Truck was a recipient of the Long Beach Community Foundation's Community Impact Fund grant. Through innovative programming, The Book Truck gets teens who have never picked up a book to start reading. Every year, they give thousands of free books to foster care, homeless, and low-income teens throughout Los Angeles County. Below is an update on the impact of this grant funding.
---
LBCF Community Impact Fund Allowed The Book Truck to Spring into Action
When teens have access to books and feel empowered to read, their lives can change. The Book Truck is driven by this fact and is on a  mission to improve literacy skills for homeless, foster care, and low-income teens in order to provide a pathway out of poverty. Thanks to funding from the Long Beach Community Foundation, we were able to bolster our literacy programming and give away over 1,500 free, high-interest, diverse books to over 700 homeless, housing insecure, and low-income teens in Long Beach over the 2021 fall semester.
The pandemic caused devastating learning losses for Long Beach's most vulnerable teens. In the midst of this crisis, funding from the LBCF Community Impact Fund allowed The Book Truck to spring into action, offering Teen Literacy Events, Lit Boxes, and Lit Centers throughout Long Beach. This funding enabled us to work alongside incredible partners such as Linc Housing (transitional housing for homeless youth), MHALA TAY Academy (homeless drop-in center), Extraordinary Families (foster teens), and Long Beach Blast (academic mentoring for low-income teens) as well as local dropout recovery high schools, Poly Academy (PAAL), Beach High School, and Reid Senior High School. These partnerships expanded our outreach in the city and allowed us to serve some of the most vulnerable youth in our community.
One such occasion was in November of last year. Alongside Long Beach Blast we held a Literacy Event for over 300 students at Reid High, a Long Beach continuation (dropout recovery) school. Book Truck-trained staff from LBB were on hand as we unloaded over 600 high-quality, high-interest books from our truck. When the event began, we were swarmed with students who immediately engaged with the LBB volunteers, carefully selected books, and patiently lined up during their breaks for the opportunity to take these books home. Some teens talked about sharing their books with siblings or friends, others talked about finding a book they had always wanted to read but never had the opportunity. And most importantly, we were asked when the Book Truck could come to their school again.
And that success is what makes The Book Truck, and its methods so unique. We don't just hand out books and expect teens to become readers. From the start, we listened to teens in under-resourced communities and innovated how to connect with them and get them reading. We've pioneered a system that makes it possible for EVERYONE–even the most reluctant readers–to connect with the act of reading, and continue to come back to it.
On behalf of all the teens we serve, we want to express our gratitude to the Long Beach Community Foundation for their generous gift; it made a difference in so many teens' lives.
---
To learn more or to support LBCF's Community Impact Fund, visit the fund page here.