Events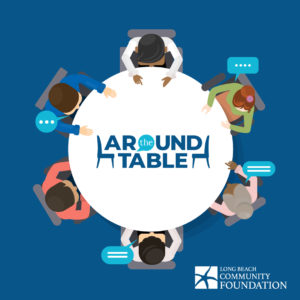 Long Beach Community Foundation's Second Around the Table Event to Address Homelessness –
The public is invited to attend hosted community conversations to learn about this issue, what's being done about it and how they can help.
Following on the success of last year's Around the Table event, the Long Beach Community Foundation will be hosting more Around the Table events beginning on December 3rd that will address the #1 issue facing the city: homelessness.
Presented by the Long Beach Community Foundation, "Around the Table: Activating the Community Around Homelessness" is an opportunity for residents to come together to learn directly from nonprofit and civic leaders about the causes of homelessness in Long Beach, what is being done about it, and how residents and business owners can help. It's a chance to meet face-to-face with each other and to learn how they can make a positive impact.
"Last year when we convened 3,000 Long Beach residents throughout the city, residents told us they want to be involved in addressing the issue, but they're not sure how to go about it," said Marcelle Epley, President & CEO of Long Beach Community Foundation. "This year, Around the Table will give residents the opportunity to educate themselves about homelessness, correct misconceptions directly from those working on the front lines of the issue, and learn easy ways they can step up to help."
The Around the Table Long Beach events are scheduled for:
Monday, December 3rd at the Golden Sails Best Western (6285 E. Pacific Coast Hwy) 5-6:30pm
Tuesday, December 4th at the Petroleum Club (3636 Linden Ave) 5-6:30pm
Sunday, December 9th at the Assistance League (6220 East Spring Street) from 2-3:30pm
Parking is complimentary, and refreshments will be available. To RSVP for the event, visit http://www.AroundtheTableLB.com or call 562-435-9033.
In The News
Press Releases
Long Beach Community Foundation's Second Around the Table Event to Address Homelessness
November 27, 2018
Complimentary Long Beach Seminars on Wills and Trusts Sponsored by the Long Beach Community Foundation
September 17, 2018
3,000 Long Beach Resident Voices Heard; Around the Table Event Results Released Today
April 17, 2018
Long Beach Rescue Mission Residents Looking Forward to Quality of Life Improvements
October 10, 2017
Around the Table: Largest One-Day, Citywide Community Conversation Slated for September
July 27, 2017
LBCF Names Jean Bixby Smith Chair Emeritus
June 13, 2017
Long Beach Funders Collaborative to Make a Large Grant
April 19, 2017
Long Beach Area Students Receive STEM Scholarships
January 17, 2017
LBCF Celebrates 20 Years
June 9, 2016
Local Trafficking Victims Win a Chance At New Life
March 23, 2016
$2.5 Million Granted in 2015
January 6, 2016
Extend Your Charitable Giving in 2015
December 28, 2015
IRA Charitable Rollover Is Permanent Law
December 21, 2015
The Long Beach Community Foundation Builds A Community Garden at the Boys and Girls Club
November 13, 2015
Nonprofits Gather to Learn More About Managing Their Reserves and Receiving Planned Gifts
September 29, 2015
$120,000 Pool of Long Beach Civic Innovation Grants
September 23, 2015
LBCF Welcomes New Board Members – Newest Members Add a Breadth of Expertise to Foundation Board
February 24, 2015
Long Beach Community Foundation Exceeds $25 Million in Assets
December 26, 2014
End of Year Charitable Options Available Now: U.S. Senate Votes Yes to Tax Break for IRA Charitable Rollovers
December 18, 2014
Nonprofit Daycare Gets a New Entryway
December 2, 2014
Long Beach Community Foundation Transitions Into a New Era With Netherton as Board Chair
May 29, 2013
4th Annual Digital Media Arts Summit & EXPO
September 17, 2012
Public Access (PADNET) for Long Beach Moves Forward with Producers Forum
November 29, 2011
LBCF to Award B of A Emergency Grants for Healthcare Services along Atlantic Corridor
March 29, 2010
Long Beach's Sophiline Cheam Shapiro named 2009 USA Knight Fellow
December 14, 2009
Knight Foundation announces USA Knight Fellowships
December 7, 2009
Connected Corridor Phase 2 Grants
June 2009
Art Start
December 2008
Knight Funds
August 2008
Connected Corridor Phase 1 Grants
June 2008